Reasons to Hire a Professional Installer For Concrete Coating Systems
The idea of getting halfway through a concrete coatings project, just to lose steam and motivation shortly into it, plus dealing with the mess, lack of time and just not being sure of what it is you're exactly doing can push frustration over the top for you and your family.
There is always the option of hiring a qualified or even a certified professional installer for concrete coatings finishes. I know the first thing that enters your mind is cost. But, like a reliable car vs. a lemon or even working on your own lemon vs. going to a reliable mechanic, there are advantages.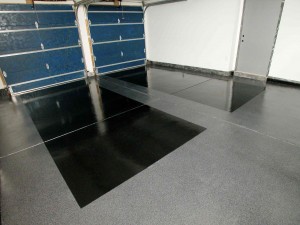 Concrete Floor Preparation Is The Key
Concrete coatings can be attractive, durable and maintainable when all phases of installation are performed correctly. If the preparation and installation is done incorrectly, results can be delamination / peeling, improper chemical bond, uneven curing or drying of material, bubbling, or blushing of the concrete coatings finish. Many of these problems will result in the need for you to completely start the entire process over again.
The first thing to consider, prior to installing your own concrete coatings system, are all the technical aspects of each material choice and also the concrete substrate. There are as many options to choosing the correct concrete coatings materials for the situation as well as the correct preparation for the concrete substrate depending on stains or damage already done to the concrete.
There is the difficulty of the full procedure of installation, some of the little "tricks" of the trade and tools of the trade that would drive the cost up for the DIY'er, just to try and set up your concrete coatings to look great. And then last but certainly not least, manpower. Rarely is a concrete coatings or full seamless system installed and executed by one single person. It can be, if you're good and the job size fits, but even on some of the smallest jobs there are usually more than one installer.
You can definitely install a concrete coatings system yourself. You can grind or blast your concrete floor, wash it with acid, create your own dust, create a sticky material mess, cleaning up with thinners and reducers that you are now storing in your garage or tracking it through your house, just to end up with a concrete coatings finish that is not quite what you hoped it would be.
About the Author
Western Concrete Coatings (previously known as MN Painting & Concrete Coatings ) are certified professional installers of Sealed Concrete and Resin Flooring systems in Denver, Colorado. We offer our Concrete Coatings services to Commercial & Residential customers throughout Colorado's Front Range including, but not limited to Denver, Littleton, Centennial, Parker, Highlands Ranch, Castle Rock, Englewood, Aurora, Broomfield, Fort Collins, and Colorado Springs.