Introduction to Concrete Floors
Protecting concrete floors by installing a sealed concrete system is a great way to both prolong the life of your floor and create a unique decorative look. For years, concrete sealing systems have been used in industrial settings for both its affordability and durability.
Sealed Floors Can Be Industrial or Decorative
Just because high performance coatings are extremely durable and can be used for industrial flooring applications, doesn't mean it can't look good too. As the designer appeal of concrete floors has increased, more and more of these concrete finishes are being used to achieve beautiful floor finishes in offices, retail spaces, restaurants and even private homes.
Top Five Uses For Concrete Sealers
Garage floors – leaking vehicles drip oil and other fluids onto concrete. When this happens in a garage without sealed concrete, those substances can soak right into the concrete floor and create unsightly stains that are extremely difficult to remove. Floor coatings in a garage are a great option that can keep the floor looking great and is much easier to clean when spills or leaks occur.
Locker rooms/showers – resin flooring systems are a great solution for this challenging flooring application. The integration of a seamless transition from floors to walls without any grout lines greatly decreases the ability for mold or bacteria to grow in a moist environment. In addition, options are available to create non-slip surfaces so these areas are safe.
Commercial kitchens – since it is vitally important that kitchen floors meet or exceed health code regulations, sealed concrete flooring systems are used that meet USDA and FDA safety standards. Receiving health code violations can be expensive if the flooring used does not meet the federal and state regulations.
Mechanical rooms/boiler rooms – waterproofing systems to contain water are extremely important. Most boiler rooms in large commercial buildings are on upper floors, so the sealed concrete system must contain any equipment leaks so that water isn't sent down several floors. These systems integrate a fiberglass membrane which eliminates cracking through the material. The sealed concrete system must be highly durable and flexible to perform in this environment.
Airplane hangars – special concern is placed on keeping contaminants from getting pulled into aircraft engines. Sealed concrete floors are essential in these areas because the best way to spot any debris or contaminants on a floor is to have smooth shiny floors. Sealed concrete finishes also offer durability and they are easy to clean if fuel or hydraulic liquids leak onto the floor.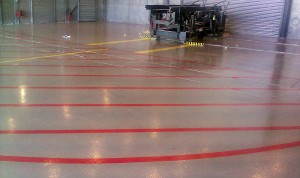 About the Author
Western Concrete Coatings (previously MN Painting & Concrete Coatings) are certified professional installers of Sealed Concrete and Resin Flooring systems in Denver, Colorado.
We offer our Concrete Coatings services to Commercial and Residential customers throughout Colorado's Front Range including, but not limited to Denver, Boulder, Louisville, Golden, Littleton, Centennial, Parker, Highlands Ranch, Castle Rock, Englewood, Aurora, Commerce City, Westminster, Broomfield, Fort Collins, Greeley, and Colorado Springs. In addition, we also travel regionally, but not limited to, Wyoming, New Mexico, Texas, and South Dakota.