What To Ask A Floor Coatings Installer
Making the decision to hire a professional installer for your epoxy floor coating project can be daunting. Since this can be an investment, make sure to take into account additional factors, not just the price. While hiring the company who turns in the lowest bid can be tempting, if they don't install the concrete coatings, properly you may end up needing to pay someone else to fix the epoxy floor coating, losing both time and money.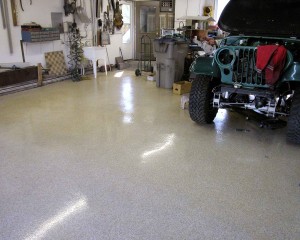 Here is a list of questions you should ask before you decide who you want to hire to install your epoxy floor coating system.
What type of training or certifications do you have for installing concrete coatings?
How long have you been in business?
How long have you been installing epoxy floor coating systems?
Do you have references I can contact?
Can I see proof of your Liability and Worker's Compensation Insurance?
Which brand of epoxy floor coating products do you use? Are the materials one or two component products?
How long can I expect the concrete coatings to last? Do you offer a warranty?
Who performs the work? Your own crews or do you use sub-contractors? If the company hires sub-contractors for their work, sometimes they don't control the quality of work being done as much as if they are using their own employees.
Do you perform moisture vapor transmission tests? The biggest reason that epoxy floor coating products fail is from having moisture vapor levels that are too high. If the moisture vapor is high, special products need to be used before the final epoxy floor coating finish is applied.
How do you prepare the concrete floor to install the epoxy floor coating system? Prep work should be done mechanically. It's best to avoid acid etching due to environmental and concrete surface concerns.
What is your application method and why? Depending on the sealed concrete system they will spray material, brush and roll, or trowel. They should be able to give this information when explaining their process or epoxy floor coating system recommendations.
How do you repair any existing damage to the concrete? Do you chase out and pre-fill cracking? The epoxy floor coating installers should definitely chase and pre-fill cracking in order to avoid any cracking from going through the epoxy floor coating material over time.
How long will the epoxy floor coating floor have to dry / cure?
Will there be any odor with the system you will be using?
Which Epoxy Floor Coating Installer Should I Use?
Many of the answers will vary and depend on the epoxy floor coating application you need, but how the questions are answered will give you an idea if the company you are speaking with has enough experience to provide a professional quality concrete floor finish. Please take notice if the answers aren't prompt or seem unsure.
About the Author
Western Concrete Coatings (previously known as MN Painting & Concrete Coatings ) are certified professional installers of Epoxy Floor Coating and Resin Flooring systems in Denver, Colorado.
We offer our Concrete Coatings services to Commercial and Residential customers throughout Colorado's Front Range including, but not limited to Denver, Boulder, Louisville, Golden, Littleton, Centennial, Parker, Highlands Ranch, Castle Rock, Englewood, Aurora, Commerce City, Westminster, Broomfield, Fort Collins, Greeley, and Colorado Springs. In addition, we also travel regionally, but not limited to, Wyoming, New Mexico, Texas, and South Dakota.